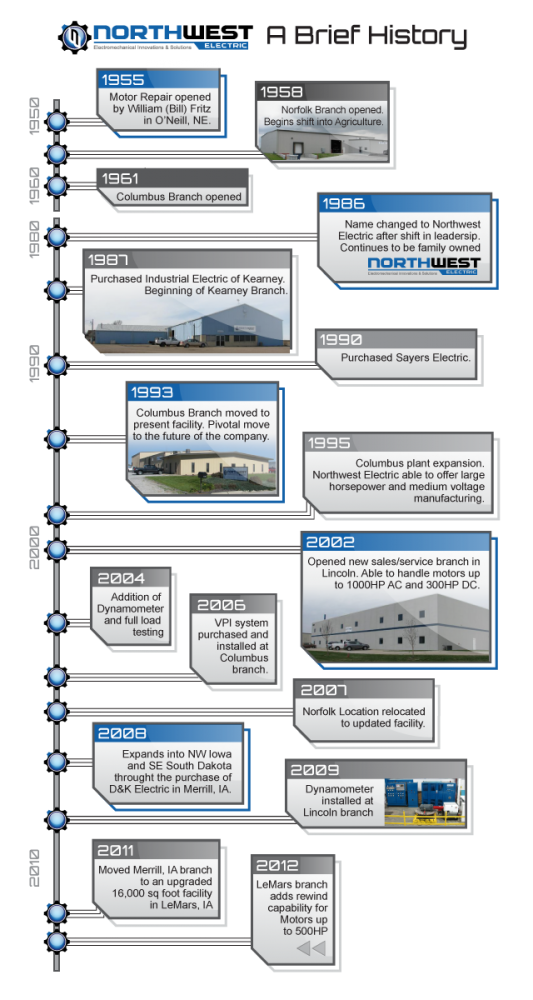 Established in 1955, Northwest Electric is a family-owned company that grew from a single motor repair shop to a large operation with branches in Columbus, Norfolk, Kearney, Lincoln, and Le Mars, Iowa.
William (Bill) Fritz originally founded Northwest Electric Motor Repair to help customers fix and service their small appliances, various single-phase motors, and wind chargers. Demand began to increase as customers realized the benefit of working with Northwest Electric Motor Repair. To be more accessible and to improve the turnaround time for service requests, the company opened two more branches in 1958 (Norfolk), and 1961 (Columbus). Still family-owned, a shift in leadership resulted in the renaming of the company to Northwest Electric, Inc.
With requests coming from all over the state, Northwest Electric soon acquired two smaller competitors, Medley Electric of Kearney in 1988, and Sayers Electric of Lincoln in 1990. Through this initiative, Northwest Electric was able to broaden its reach and bringing a stronger sales presence to the corresponding areas.
In 1996, the Columbus plant was moved to its present-day facility. An addition of 10,000 square feet nearly doubled the size of the previous Northwest Electric facility and allowed the company to offer increased lifting capacity. This better positioned them to serve the utility industry with large motors (5000 HP), and medium voltage (4160 volts) remanufacturing.
Notably becoming a full-service operation, Northwest Electric opened a fourth branch in Lincoln in May 2002 and quickly became known as a major mechanical service center for eastern Nebraska. Hiring skilled and knowledgable team members at this location resulted in a high level of mechanical repair expertise focusing on gearboxes, pumps, air blowers and motors up to 1000 HP AC and 300 HP DC. The addition of a dynamometer in 2004 and a VPI system at the Columbus branch in 2006 increased Northwest Electric's capacity for quality repair and extended operating life of motors.
In 2008, Northwest Electric expanded into northwest Iowa and southeastern South Dakota through the purchase of D&K Electric in Merrill, Iowa. Also at this time the Lincoln branch installed a dynamometer and moved into an 18,000 square foot facility. With a presence in Iowa, the need remained for more space to service larger equipment onsite rather than having to ship it to the Lincoln or Columbus locations. As a result, in 2011 the Merrill branch moved to a 16,000 square foot facility in Le Mars, Iowa. Nearly triple the size of the previous location, the new Le Mars facility offered the same high-quality service in addition to larger inventory and faster repair times for that region. A year later, the Le Mars location added rewind capability for motors up to 500 HP.
Today, strategic acquisitions and a fierce dedication to customer service have positioned Northwest Electric as a leader in the industry. The team has worked hard to instill confidence in its brand. Customers appreciate the assurance of quality through excellent documentation, thoroughness of testing, and accuracy of repair. With 39 employees across five locations spread throughout the Midwest, Northwest Electric offers quick and efficient service, responding to customer requests 24 hours a day, 7 days a week. Northwest Electric's management team continues to look for growth opportunities and additional locations. The corporate headquarters for the company remains in Columbus, Nebraska.